GK3000 variable frequency drive for transmission applications
Overview
Gozuk GK3000 series variable frequency drive is designed as a special VFD according to automation control system, it's suitable for suitable for paper industry, metallurgy and other high control precise requirement industries, which is known as its multi-transmission points, good synchronization, continuous production characteristics, steady speed & high precision, high torque in low frequency and fast dynamic response. GK3000
variable frequency drives
have the same excellent performance as international high-end VFDs, which can meet a variety of transmission applications.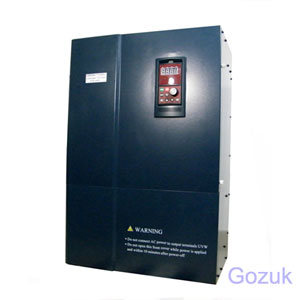 VFD Technical characteristics
Adopt 32-bit high-speed motor control dedicated CPU
Unique flux vector control algorithm
Good low frequency characteristics, full torque output at zero speed running
Torque control: Torque step rise time
Open loop: Rated torque <5ms
Closed loop: Rated torque <5ms
Speed control: static precision, dynamic precision
Open loop: 10% motor slip, 0.3% -0.4%s in 100% torque Closed loop: 0.01% of motor rated speed, 0.1% -0.2%s in 100% torque
Wide range input voltage, fluctuation range 304-456V
PID multiplexing function. Feedforward control in synchronization
Perfect over-current, overload and load short-circuit protection
Multiple frequencies given function
VFD System benefits
High synchronous drive system, fast dynamic response, high control precision up to 0.01Hz.
Each part has edged up, went down, and tighten, relax function, can display each segment line speed.
The variable frequency drive system is easy to operate, can store several different set parameters which can be released before driving to facilitate workers operation.