0.75kW Single phase inverter - 220V input 3 phase output
Very competitive 0.75kW single phase inverter with compact design, suitable for integrate system solutions. As there is no cabinet/case on the inverter, the price is extremely cheap. You can install multi
frequency inverters
into a big cabinet, which is very useful in textile machines and other highly-integrated applications. Since this inverter being manufactured by Gozuk, it has been widely applied in weaving machines in textile industry in local China and global customers.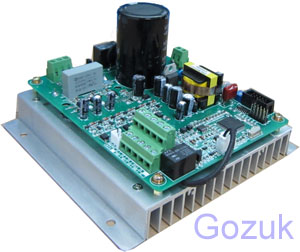 Frequency inverter power
: 0.75kW (1HP)
Input voltage: 1 phase 220V ±15%
Output voltage: 3 phase 220V
Control mode: Space voltage vector control
Single phase inverter features:
Built-in simple PLC function and wobble frequency function, more suitable for textile machines.
Powerful function with compact small size, extremely low price.
Built in braking function, no need to connect additional brake resistor to the inverter.
Advanced space voltage vector control.
Control the frequency inverter through panel/terminal and other controls ways.
Good adaptability to high fluctuation power supply situations.
Widely used in integrated control applications.
Integrated failure record feature, allow you debug the inverter more quick and easier.
16 steps speed adjustment, can be controlled separate, high control precision.
Check more
single phase VFDs
here.