sales@gozuk.com

support@gozuk.com

gozuk@live.com
Gozuk: a reliable supplier in China of variable frequency drive inverters, soft starters, input/output filters and related accessories for AC motor control applications.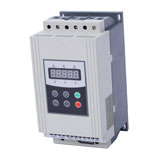 AC motor soft starter
Choose a different starting modes and parameter settings according to different loads characteristics to achieve optimum effect. The soft starter has three starting methods: Voltage ramp start - get the maximum output torque; Current limitation start - limit starting current effectively; Jog - to achieve debugging test.