General motor speed controller

Independent fan cooling design to ensure the motor speed controller has good heat dissipation, and improve the controller's environmental adaptable capability. Enhanced PID controller for users to control temperature, pressure and flow more convenient. Simplify the control system architecture and reduce costs. Real-time parameters monitoring for a comprehensive understanding of the motor speed controller's operating status.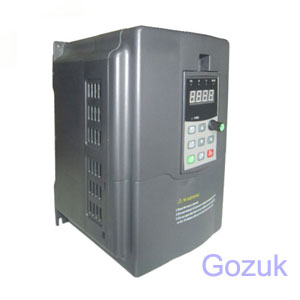 Power range:
0.75kW - 400kW
Input voltage: 3 phase 380V +/- 15%
Output voltage: 3 phase rated input voltage
Motor speed controller Features
Accept ± 15% rated voltage fluctuation to enhance unstable power gird environment compatible.
Adjustable output frequency range from 0Hz to 400Hz depends on different customers' requirements.
Adopt 32 bit motor dedicated microcontroller, optimized SVPWM (space vector) control technology, stable current waveform and strong current inhibition ability, the motor speed controller can operation stable under wide range load fluctuation.
Great mute control feature, 16KHz online adjustable to ensure torque output reasonable and reduce the motor running noise and temperature effectively.
Comprehensive motor protection, like overload, overcurrent, overvoltage, undervoltage, short circuit protection and soft start / soft stop function.
Rich programmable input and output terminals, 2 programmable analog input terminals which can switch to each other, combine with a wealth of software logic functions to meet different applications requirements in different industries for motor speed controls.
Automatic energy-saving operation function: This feature can detect the load status, and adjusts the AC motor speed controller output voltage, thus improves the controller's operation efficiency further. This feature combine with traditional frequency reduce method to get a higher energy saving effect.
Motor controller Applications:
Petroleum, chemical, metallurgy, mining, building materials, paper, textile, printing and dyeing, cement plants, power plants, plastic machinery plant and boiler drum, fan, central air-conditioning system, etc. to replace outdated voltage regulator, rectifier, DC converter, slip speed and mechanical manual control, regulating liquid, gas flow and other fields. Electricity saving rate as high as 20% to 70%, and improving equipment operation conditions and production processes, increase production capacity and reduce equipment maintenance costs, etc.