AC drives - Industrial Motor Variable Speed Controls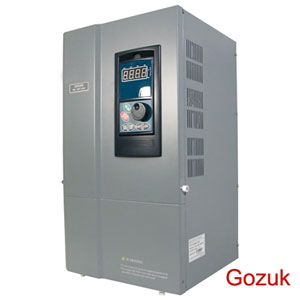 Gozuk AC drives are manufactured based on sensorless vector control, current control, V/F control and vector space control techniques to change the AC asynchronous motor running speed by controlling the output frequency. Gozuk AC drives adopt world-class space voltage SPWM control technology, built-in current control loop to achieve high-precision closed-loop control mode for high accuracy requirements. According to thousands of China local customers' feedback,
Gozuk drives
are suitable for paper industry, constant water pressure supply, metallurgy and other high control precise requirement industries.
Power range:
1phase 0.2kW - 3.7kW
3phase 0.75kW - 400kW
Gozuk AC drive general specifications
Item

Description

I/O features

Input voltage range

Single phase 220 - 240V +15% for single phase drives
Three phase 380 - 440V +15% for three phase drives

Input frequency

50Hz/60Hz

Output voltage range

0 - rated input voltage, three phase

Output frequency range

0.00~400.00Hz

Control features

Control mode

EDS800 series: optimal space voltage vector SVPWM constant voltage frequency ratio V/F control;
EDS1000 series: Speed sensorless slip vector control, open loop V/F control;
EDS2000 series: optimal space voltage vector PWM control;
EDS2800 series: simple current vector control special for injection molding machine.

Over loading capacity

G type: 150% of rated current for 1 minute,200% of rated current for 0.5s;
P type: 120% of rated current for 1 minute (for type of 3.7kw~132kw); 110% of rated current for 1 minute, 150% of rated current for 1 second (for type of above 160kw)
G2800 series: 150% of rated current for 3 minutes, 200% of rated current for 5 seconds

Speed regulation range

1:100

Speed control accuracy

≤±0.5% of rating synchronous speed

Frequency precision

Digital setting: max frequency *± 0.01%; analog setting: max frequency *± 0.5%

Frequency resolution

Analog setting: 0.1% of max frequency
Digital setting: 0.01Hz
Exterior pulse: EDS800/1000 series: 0.5% of max. frequency; EDS2000 series: 0.1% of max
frequency
Digital keyboard settings: 0.01Hz

Start torque

100% of rating torque at low frequency for EDS800 series;
150% of rating torque at 1 Hz for EDS1000 series;
150% of rating torque at 3 Hz for EDS2000 series;
130% of rating torque at 1 Hz for EDS2800 series.

Torque boost

Automatic torque boost,manual torque boost 0.1%~20.0%

V/F curve

Set rating frequency randomly at range of 5~400Hz, can choose constant torque, degressive torque 1, degressive torque 2, degressive torque 3 and user defined V/F curve in total 5

Accelerating decelerating curve

Modes: straight line accelerating decelerating, S curve accelerating decelerating and automatic Acc/Dec mode; 4 kinds of Acc/Dec time (unit of minute/second can be optioned), max is 6000 minutes. EDS1000 series AC drive has two models: straight line accelerating decelerating, and S curve accelerating Decelerating; 7 kinds of accelerating decelerating time (unit of minute/second can be optioned), max is 6000 minutes.

Brake

Power consumption brake: Interior or exterior braking resistance for EDS1000/2000; exterior braking resistance for EDS800 series (built-in braking unit)
DC brake: Optional start-up and stop, action frequency 0~15Hz, action volt. 0~15%, action time 0~20.0s

Jog

Jog frequency range:0.50Hz~50.00Hz; jog accelerating/decelerating time 0.1~60.0s can be set

Multi-section speed running

Realized by interior PLC or control terminal

Interior PID controller

Be convenient to make closed-loop system

Automatic energy saving running

Optimize V/F curve automatically based on the load to realize power save running

Automatic volt. regulation (AVR)

Can keep constant output volt. When power source voltage varies.

Automatic current limiting

Limit running current automatically to avoid frequent over-current which will cause trip

Running function

Running order specified channel

Keypad provision, control terminal provision, serial port provision

Running frequency specified channel

Digital provision, analog provision, impulse provision, serial port provision, combined provision, can be switched at any time by kinds of method.

pulse output channel

Impulse square wave signal output of 0~50KHz (for EDS1000/800 it is 0~20KHz) can realize output of physical parameter such as setting frequency, output frequency and etc.

Analog output channel

2 channel of analog signal output, each channel can be 4~20mA or 0~10V (for EDS800 series: 1 channel of analog signal output AO, which can be 4~20mA or 0~10V), through them the variable frequency drive can realize output of physical parameter such as setting frequency, output frequency and etc.

Special channel of EDS2800

2-way 0-1A and 2-way 0-10V isolated analog input signal

Keypad

LED display

Can display setting frequency, output frequency, output voltage, output current etc. in total 20 kinds of parameter (EDS800 has 14 kinds of parameter)

Button lock

Lock all of the buttons; For EDS1000/800: Lock all or part of the buttons(analog potentiometer can't be locked)

Parameters copy

Parameters can be quickly copied. by using of keyboard and remote-control keypad(EDS800/1000 series haven't this function)

Configuration

Defending grade

IP20

Cooling mode

By fan with automatic temperature control

Environmental Constraint

Temperature

–10℃ ~ +40℃; AC drive will be derated if ambient temperature exceeds 40℃; each rise 1℃, the derate will be 5%

Humidity

5%-95%, without condensation

Altitude

≤1000m; ac drive will be derated if above 1000m

Impingement and oscillation

Normal running: <5.9m/s2 (0.6g); Transportation: <15m/s2(1.5g)

Store environment

–40℃ ~ +70℃; no dust, no corrosive gas, no direct sunlight

What is an AC drive?
Definition: AC drive is a power control conversion device to change commercial power supply (50Hz or 60Hz) to another frequency power by inner power semiconductor on/off behaviors, to control AC motors in variable speed operations. Variable frequency control is changing the frequency supply to the motor stator windings to achieve variable speed control purpose.
AC Drive also called
frequency inverter
,
variable frequency drive
(VFD) and AC motor speed drive etc. it allows the electric motor smooth start up, control startup current growing from zero to motor rated current, reduce impact to the power grid and avoid the motor being burned out, also provide protect in motor running process. Besides these functions, the main function of AC drive is adjusting the motor running speed according to actual operation conditions, to
achieve energy saving effect
.
AC drive parts name introduction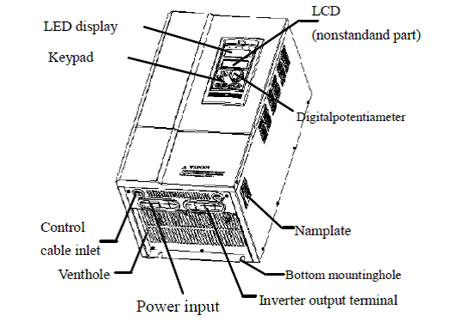 AC drive mounting space requirements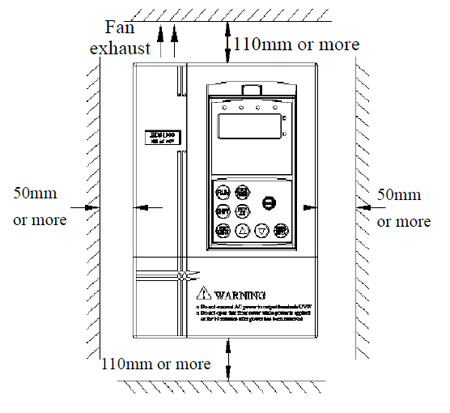 AC drive system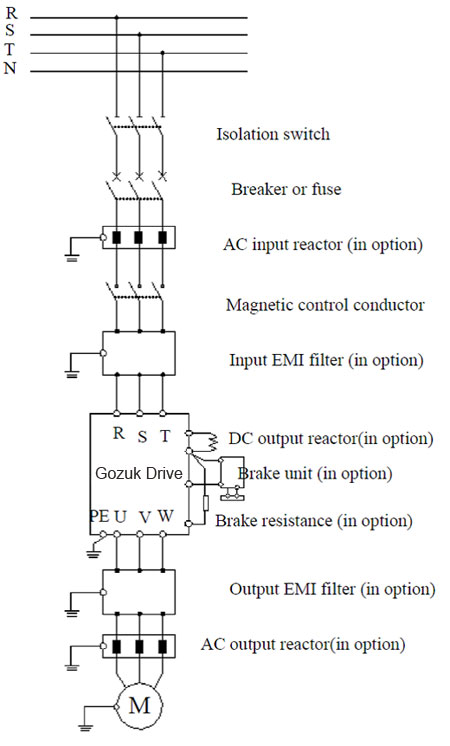 1) Make isolation switch active between power source and AC drive to assure personal safety in
repairing and maintenance
.
2) Install breaker or fuse in power supply loop with over current protection function to avoid malfunction cause AC drive failures and damaged.
3) AC input reactor: If the high harmonics generated between AC drive and power supply can't reach system requirement or need to improve the drives input power factor, AC input reactor is needed.
4) Magnetic control conductor is only applied to power supply control but not applied to control the AC drive on/off.
5) Input EMI filter can inhibit high-frequency conduction disturbance of the AC drive power supply wires.
6) DC reactor: To avoid the AC drive affected from power supply and inhibit high harmonic.
7) Output EMI filter can use inhibit emission disturbance noise and wire leakage current from output side.
8) AC output reactor to avoid motor insulation damage, big over current and AC drive frequent protection when wires length exceeds 50meters from the AC drive to the motor.
9) AC drive and motor must be earthed well and grounding resistor value smaller than 10Ω. Earth wire is the shorter the better, and wire diameter is the bigger the better.
AC drive wiring
AC drive keypad
Keypad is the AC drive main unit to receive command and display parameters.