sales@gozuk.com

support@gozuk.com

gozuk@live.com
Gozuk: a reliable supplier in China of variable frequency drive inverters, soft starters, input/output filters and related accessories for AC motor control applications.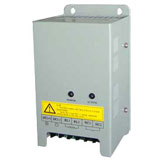 Braking unit
Braking unit is mainly used in the variable frequency drive system requires fast deceleration, braking and positioning occasions.
- Suitable For different brand variable frequency drives;
- Unique user-friendly HMI interface with simple operation;
- Flexible configuration, allows parallel applying with no capacity constraint;
- Power resistors are optional and can customize resistance box.