Non Enclosure VFD - 1HP
GK3300 Series economic low cost 1HP Non-Enclosure variable frequency drive (VFD) with compact design, it's the best choice for integrate system solutions. As there is no enclosure on GK 3300 series VFD, the price is extremely cheap. You can install multi VFDs into a big cabinet, which is very useful in textile machines and other highly-integrated applications. Since this non enclosure VFD being manufactured by Gozuk, it has been widely applied in weaving machines in textile industry in local China and global countries.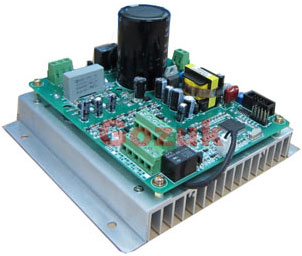 Model number
: GK3300-2S0007G
VFD capacity
: 1HP
Input
: single phase 220V/230V/240V,
50Hz/60Hz
Output
: three phase 0V - input voltage, adjustable 0Hz – 400Hz
Control mode
: V/F control
Main features of GK3300 Non-Enclosure VFD:
Powerful function with compact small size, extremely low price.
Built in braking function, no need to connect additional brake resistor to the variable frequency drive.
Built-in simple PLC function and wobble frequency function, more suitable for textile machines.
Advanced space voltage vector control.
Good adaptability to high fluctuation power supply situations.
Control the VFD through panel/terminal and other controls ways.
Widely used in integrated control applications.
16 steps speed adjustment, can be controlled separate, high control precision.
Integrated failure record feature, allow you debug the variable frequency drive more quick and easier.

Inquire us now
to get a good price of this 1hp non enclosure variable frequency drive.
Tips
: VFD vs. Valve on pumps
Running a primary pump at full speed and then bringing on a second pump full speed on a demand just past the first pump's duty point means we now have two pumps running slightly over 50% each - not real efficient. The VFD setpoint controller, i.e. pressure etc, will throttle both pumps to maintain the required system a parameters.
Another problem with multiple parallel pumps using Pressure Reducing Valves instead of VFDs - if the Pressure Reducing Valve settings are not all balanced (the same), the pump with the lowest setting may "hog the load" if the settings are too far off. The pump with the higher setting sees this as over pressure and wants to throttle closed. This is worse on flat curve pumps for constant pressure. On larger systems you can add load sharing controls based on amps - like generators do.
You may interest in this
article of VFD vs. Valve on pumps
.