Single Phase to Three Phase VFD
GK 3000 series variable frequency drives (VFD, or frequency inverter, AC drives) adopt advanced control methods to achieve high torque, high accuracy and wide speed adjustment drives, which can meet various requirements in different applications for AC motor speed controls. GK3000 series single phase VFD drives combine with customers' needs and industry requirements generic, provide practical PID controller, simple PLC, programmable input/output control terminals, remote synchronization control, pulse frequency reference and other special VFD control features, to provide customers with highly integrated solutions in equipment manufacturing and automation engineering to reduce cost and improve system reliability.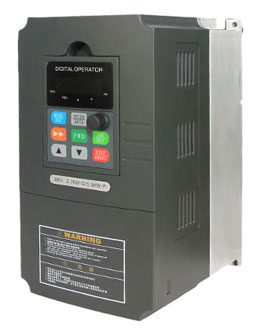 Power Capacity range:
1/2hp (0.4kW) - 5hp (3.7kW)
Input: 1 phase 220V/230V/240V, 50Hz/60Hz
Output: 3 phase, 0 - 400Hz
GK3000 Single Phase VFD model list
| | | |
| --- | --- | --- |
| Model | Capacity | Rated Current (amps) |
| GK3000-2S0004 | 1/2 hp (0.4 kW) | 3 |
| GK3000-2S0007 | 1 hp (0.75 kW) | 4.7 |
| GK3000-2S0015 | 2 hp (1.5 kW) | 7.5 |
| GK3000-2S0022 | 3 hp (2.2 kW) | 10 |
| GK3000-2S0037 | 5 hp (3.7 kW) | 17 |
GK3000 Single Phase VFD Features
V/F control, vector control;
Compact design for easy installation in limited space;
Built-in speed potentiometer, the panel can be connected external;
32 bit advanced CPU special for motor control;
Built-in RS485 communication interface;
2-channel analog inputs and 1 channel analog output;
16 speed steps adjustment;
Track motor speed function to protect motor from start impact;
A variety of running command/frequency given channels are selectable;
Built-in PID controller to realize closed-loop constant voltage, constant temperature and constant tension control;
Online check and modify parameters;
Relay normally open/closed configuration;
Enhance fault protection to monitor operation record;
Integrated textile wobble frequency function to make this single phase VFD can be widely used in various textile equipments.
Why Single Phase to Three Phase VFDs are used?
In the condition when you want to control three phase motors (220/230/240V rating) speed with single phase 220V / 230V / 240V power supply.
Can I use single phase 220V VFD to control three phase 380V, 400V or 415V motor?
No. VFD can output variable frequency (0 to 400Hz), and variable voltage (maximum output value equal to input value). But can't boost voltage from 220V to 380V.