Variable frequency drive output filters
Variable frequency drive dedicated output filters are mounted between the VFD drive and the motor, to reduce the higher harmonic, inhibit the
variable frequency drive
surge voltage on output side.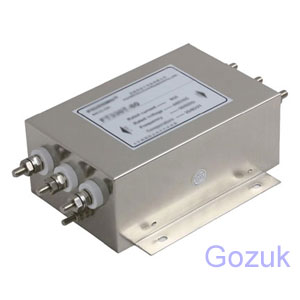 Why VFD need a output filter?
Reduce IGBT output harmonic effectively;
Inhibit dv/dt, prolong motor service life;
Protect the drive's electronics components from shock current impact;
Improve the drive system reliability.
VFD output filter parameters:
Installation Location: indoor (floor or wall mount)
Wiring: Cable or busbar;
Rated voltage: 3phage 100 ~ 480V AC, 1phase 100 ~ 240V AC
Rated frequency: 50/60Hz
Switching frequency: 2-16KHZ
Compressive strength: 3000VAC 10mA for 60 seconds
Overload capacity: 1.5 times of rated current for 1 minute, 3 times per hour
Protection: IP65
Cooling ways: Free air convection or forced air cooling
Working conditions: Altitude ≤ 2000m
Ambient temperature: -25 ℃ ~ +85 ℃
Relative Humidity: 90% (in +20 ℃)
VFD output filter installation
The variable frequency drive dedicated input/output filters can NOT be replaced each other.
The VFD dedicated output filter need to be grounded well.
Well connection between the VFD drive dedicated input filter's case and the metal part of the cabinet, and the grounding resistance should be as low as possible.
In variable frequency drive, UPS and other high-power devices, the output filter should be installed close to the devices' output side, if possible, it's better to install the output filters inside the devices, power lines and output lines shall be shield and cannot be exposed in the cabinet.
Ensure the wire as short as possible between the variable speed drive and the motor, and cannot cross or parallel with the variable frequency drive power cord and other control, communication lines.