Variable frequency inverter drive for injection molding machines
Variable speed oil pump characteristics
This solution adopts energy-saving variable frequency inverter drives special for injection molding machine controls. Automatic collect injection molding machine's working pressure and flow signals, then send to the
variable frequency drive
analog input terminal simultaneously, and make analysis and calculation to control the frequency inverter drive operation synchronization, to adjust the oil pump speed accurately.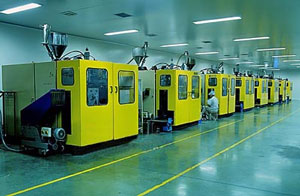 Adjust the actual oil supply amount consistent with the injection molding machinery by controlling the oil pump motor speed, under the premise of ensuring the system pressure stabilization, to control the original injection molding machine overflow phenomenon to a minimum state. The oil pump flow is direct ratio to the electric motor speed, so the oil pump output power is direct ratio to the motor speed, thus reduce electricity power consumption greatly. At the same time, variable frequency inverter drive can improve the power factor of the oil pump motor to 95%, which will improve the electricity power quality effectively and reduce reactive power consumption.
The whole energy saving system effectiveness is up to 35% - 70% according to injection mold machine's different plastic products and processes. And compare to oil pump motor without variable frequency AC drive, the average system sound is down to 3-5 decibels. Reduce 3 dB noise can reduce by 50% noise actually, which can improve the factory environment and employees' working conditions.
For example, a CLF-600 injection molding machine to produce a certain plastic parts, the entire process cycle is about 52 seconds. Measuring the time, oil pump motor current in different process point as below:
Clamping / injection unit forward: 4.0 seconds 76A
Injection: 5.5 seconds 54A
Pressure-holding: 9.0 seconds 52A
Cooling down: 29 seconds 53A (before 9.3 seconds)
Mold-opening / injection unit Back: 3.7 seconds 76A

It shows the oil pump motor has various power demand in different process point, especially in injection, pressure-holding and cooling down stages, so a 55kW pump motor utilization rate is very low and motor idling, of which a considerable electricity energy has been wasted.
Base on the injection molding machine's working characteristics, our company developed & manufacturing special variable
frequency inverter
drives for injection molding machines, to change the metering pump hydraulic system to frequency control system. This frequency control system adjusts the oil pump motor RPM according to different process requirements, then to control the hydraulic pressure and flow automatically, which can achieve energy saving rate from 35% to 70%, and has a comprehensive protective function, more safe & reliable operation than the original control system.
Specific advantages after adopt variable frequency control system:
Reduce at least 35% of electricity power consumption at least 30%, and reduce production costs.
Working noise reduced and oil temperature reduced significantly.
Smooth soft start to protect the electric motor and prolong service life.
Reduce impact of clamping/opening mold to extend the machinery and molds service life.
Prolong hydraulic system service life and reduce maintenance times to save maintenance costs.
Comprehensive protection of electric motor's overvoltage, overcurrent and phase loss.
Switching variable frequency system and power frequency easily to ensure production continuously if the variable frequency system failures.
Gozuk injection molding machine dedicated variable frequency drives features
Advanced current vector control technology.
Increase the frequency inverter drives overload capacity substantially, 150% rated current for 3 minutes, 200% rated current for 5 seconds.
Inhibit motor heating during variable frequency controls.
Adopt innovative self-learning control technology.
Solve the efficiency decreases in variable frequency control stage.
Injection molding machine's variable frequency control schematic diagram
Gozuk 2800 series variable frequency inverter drive parameters setting